One of the most efficient and affordable ways of proper waste disposal throughout the United Kingdom is hiring a skip. It is also one of the most practical methods of properly disposing of considerable amounts of rubbish. Skips come in a range of sizes and dimensions to choose from. The cost of skip hire service varies according to the size of skips. Getting the best suitable size for your needs will help you reduce the cost of your waste removal project.
Apart from skip size and dimension, several other factors influence the cost of skip hire. However, the primary factor is the sizes and dimensions of the skips. To give you a complete idea of all the factors of that affect the prices of skip hire in the UK, here's a helpful skip hire price guide that you can follow.
Mini Skips – Ranging From 2-Yard Skips To 3-Yard Skips
Mini skips are small skip bins perfect for getting rid of household waste including junk waste and green waste. These are the common choice for disposing of waste produced by garden clean ups and small home renovation projects.
These skips can take a minimum of 20 black bin bags and prices start from £150.
Midi Skips – Ranging From 4-Yard Skips To 5-Yard Skips
Midi skips are slightly larger than mini skips, these skip bins are ideal for home improvement projects such as bathroom and kitchen re-fittings as well as full house clearance and garden clean ups.
The skips can hold from 45 – 55 Black Bin Bags and start at £200.
Builder Skips – Ranging From 6-Yard Skips To 8-Yard Skips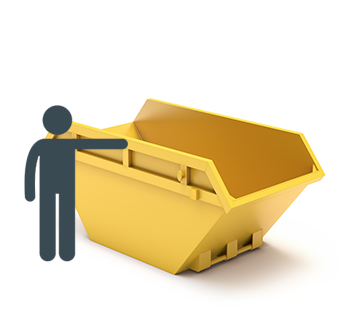 These skips are the popular choice of builders for home renovations and getting rid of garden waste on a larger scale. Perfect for garden clean ups with larger areas. Builder Skips are also very helpful for disposing of construction waste and heavy materials.
6-Yard Builder Skip cost around £300, 8-Yard Builder Skip cost around £350.
Maxi Skips – Ranging From 10-Yard Skips To 18-Yard Skips
Maxi skips are commonly used for various commercial projects; they are the popular choice for getting rid of the larger amount of unwanted rubbish. Maxi skips are perfect for properly disposing of various waste materials such as rubble, construction rubbish as well as garden waste.
These are skips suitable for bulky items and heavy materials. 10 yard skips cost around £400, 12 yard cost around £500, 14 yard costs around £600, 16 yard costs around £620, 18 yard costs in the region of £700.
Roll-on Roll-off Skips – Ranging from 20-Yard Skips to 40-Yard Skips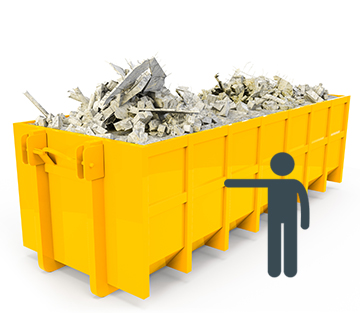 For large waste removal jobs that can't be accommodated by regular skips, Roll-on Roll-off skips is a perfect choice. These are huge skip bins great for getting rid of commercial and industrial waste. These are skips commonly used in constructions sites because they are suitable for disposing of heavy materials.
The price for a 20 yard, 30 yard and 40 yard roll on roll off skip is vary, please click here for an exact quote.
Lockable Skips – Various Sizes and Dimensions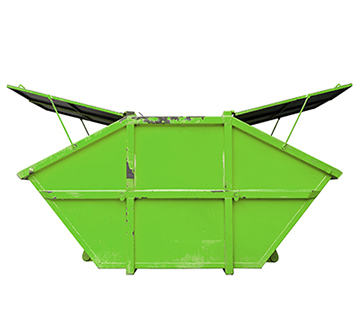 Lockable skips are perfect for protecting your waste from the elements; they are also ideal to ensure that no unwanted waste will be added into your skip.
These types of skips come in a range of sizes. These skips come in varying sizes so it's hard to price them, but expect to pay a higher amount than the open top skips.
Additional Factors That Can Affect The Skip Hire Cost & Price
Aside from the sizes and dimensions of skips which are the primary factor that affects the price of skip hire, there are other factors that contribute to the cost of hiring a skip. To give you an idea of what these factors are, refer to the list below.
Council Permits – If the skip is to be placed on a council land like a public road, you will need to secure a council permit. Skip permits vary in prices depending to local councils, so the price of a council permit will depend on your location. However, if you can place the skip on your property or a privately owned space, there's no need for securing a council permit.
Hire Period – Hire Period – Another factor that significantly affects the cost of hiring a skip is the hire period. The longer the period of a skip hire the higher the price. However, some skip hire companies offer unlimited hire periods as their promotion, so getting a skip hire with this benefit will not charge you anything for hire period.
Regional Prices – Skip hire price is also influenced by location. The price of hiring skips vary from city to city or depending on the area the skip hire company covers.
Weight Limitations – Skip hire companies have their policies with regards to weight limitations of skips. In most cases, overfilling will result in extra charges and fines according to the firm's policy. Another reason for this is that transporting of overfilled skips are not allowed, so to avoid this charge, make sure to monitor skip limitations.
Restricted Items – Every skip hire company will give you a list of materials that are not allowed to be loaded on a skip. Unable to comply this rule will result in extra charges and some cases criminal charges.
Here is a list of some common restricted items that should not be thrown on a skip. Electrical Items (fridges. freezers, TVs, computer monitors, etc.), Tyres, Batteries, Solvents, Paint & Oil, Compressed Gas Cylinders, Hazardous Waste, including asbestos, explosives, Plasterboard.
Every company has different policies with regards to this issue, so make sure to ask the company you will hire.
NOTE: This price guide is not applicable to all skip hire companies. For accurate prices, make sure to contact the skip hire company you will hire. Skip-Rental.co.uk will provide you with NO obligations and No commitments FREE quotes from the top four skip rental companies operating in your area. To get a better understanding of the pricing in your area and to also help you get the cheapest skip rental service in your area.